Customers, developers, administrators and competitors look forward to every release from Salesforce, which sets the trends in sales, services, marketing and eCommerce. The Summer Salesforce Release '20 features a string of new features to enhance business outcomes across Salesforce solutions.
From administrator tools to improvements within Community Cloud and new smart features that leverage AI, the latest release has something for everyone.
Let's have a look at some of the features we found most interesting from the latest release.
Anticipate business trends and manage inside sales reps – Einstein Call Coaching
Sales Cloud has an optimised product for domestic sales departments (inside sales rep) – High Velocity Sales, which has become even more interesting with the addition of Einstein Call Coaching.
This new tool helps inside sales managers stay on top of agent performance and draw sales insights without listening to every single call. Instead, your Einstein assistant listens to calls for you and prepares a report for you to check.
This allows you to both make your calls with customers and potential customers even more efficient by analysing consumer requests and objections, as well as learn more about the product, competitors and trends in your area.
Who is your main competitor? What technologies are most frequently mentioned by users? And what have customers been more worried about lately: price, service or terms of the deal?
Einstein Call Coaching selects key phrases and words, builds analytics for such parameters such as Top Competitor Mentions, Top Product Mentions, and Top Custom Mentions.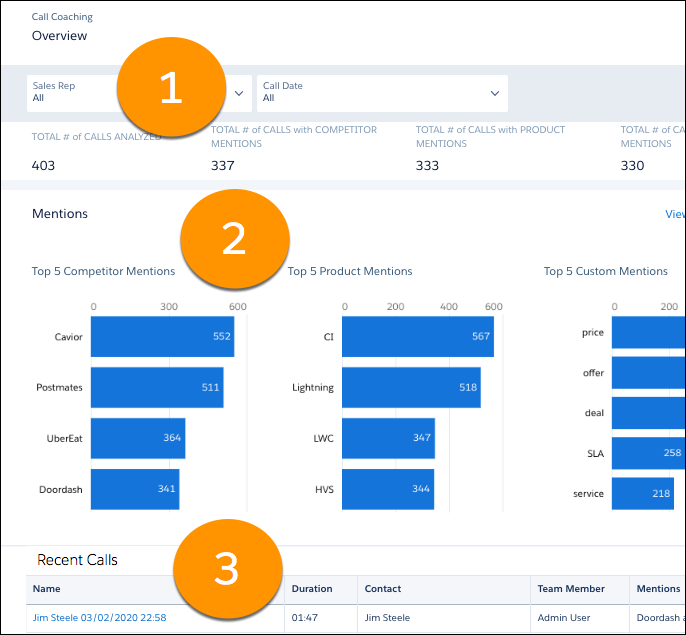 Einstein Call Coaching helps Sales Managers by highlights the moments in the record which contain keywords and phrases that signal that this moment of conversation could determine the future potential deal or interaction history. Under each call, you can leave recommendations that will help the employee to take the best step during the next conversation, to work on mistakes.
Einstein Call Coaching connects to Lightning Dialer or another Salesforce supported application to make calls.
Customers are responsible for maintaining the confidentiality of call recordings in accordance with local laws.
Einstein Reply Recommendations accelerates support
Your agents who use Service Cloud spend most of their time replying to the same set of questions and sending practically identical messages. Operators can end up demotivates and not fully concentrating, all the while, more complex and important cases are allocated less time.
Now, however, there is a new smart feature in Service Cloud, which saves time and effort and allows the operator to focus more energy on more challenging cases: Einstein Reply Recommendations.
With AI recommendations, you can quickly respond to common customer requests, replacing tedious manual message entry with the click of a button. When a message from a customer comes to the support chat, Einstein analyses it and suggests the best response options to the agent.
The agent decides what to do with the recommendations:
choose and send the most suitable basic options,
personalize it before sending it,
or reject it.
Each action trains the AI and the subsequent suggestions will be even more thoughtful and appropriate.
To enable this feature, administrators must activate Einstein Reply Recommendations to build your response model. After 48 hours, your agents can select the AI suggested answers, which will make a list of recommendations which you can change and supplement.
Learn about your customers through interactive emails
Salesforce Marketing Сloud offers a revolutionary solution for marketers that can change their increase the value obtained from email campaigns.
Email has long been one of the most effective marketing channels, but now emails can become another tool to learn about user profiles, preference and needs. They are now interactive.
This means it is now easier for marketers to get new customer information, and then use that data in Sales, Marketing, and Service. With the help of interactive emails, you can personalise your offer as much as possible, learn about the needs and create the right solutions for the market.
You choose one of the templates that suits your goals or create your own and learn more about your subscribers by inviting them to fill in the fields, take a survey or provide a rating.
Customers will be more likely to provide their details as they don't have to go to third-party resources to answer questions. As soon as subscribers open their emails, they can fill in their information right there.
For example, an apparel company may ask the customer about their favourite colour, the country where they want to go on their next trip, the product they are looking for, as well as evaluate a product or service and write a review, take a survey, or apply for a solution to a problem. Asking directly how you can help an individual customer and what their product is missing.
You might also want to find out who brought the subscriber to you: a friend, e-mail, or maybe Twitter?
B2B Commerce with new Lightning Experience
The summer release also includes tools to design, build and run B2B eCommerce solutions. Now building sites has become even easier and faster!
You can quickly build online self-service stores that offer customers personalized products, special pricing, and a tailored experience based on the interests of an individual customer.
B2B Commerce Cloud addresses the unique needs of the market with capabilities for fast reordering, checking order status, and resolving any issues online – e.g. correcting the delivery address, adapting the order and so on.
For the merchant, the new Commerce App, built on Lightning Experience, provides online analytics in one place about top-selling products, total sales by date, and more.
The data is linked to Sales Cloud and CPQ which enables enhanced offer personalization, tailor marketing, and built-in sales and service support.
Dynamic Forms (Non-GA Preview)
Dynamic Forms is a powerful feature that will save administrators a lot of work from previous workarounds. Dynamic Forms allows you to adjust the placement of fields across your app, enhancing user experience.
Instead of seeing a long list of fields in a page layout, Dynamic forms provides new options to configure the placement of fields, concealing certain elements including
accordion components
tabs
Rule-based visibility (hide from certain profiles)
Together, these will help users access the data they need faster and with a cleaner user interface.
The Survey module has had been revamped
Salesforce has enhanced Surveys and more deeply integrated them within Salesforce, enhancing feedback collection. Some highlights include
The option to personalize surveys using merge fields
Embedded post-chat customer feedback
Customer lifecycle maps
Sharing surveys through QR codes
Additional translation options for global customer bases
Customer lifecycle analytics
Along with the other survey improvements, you can now gather more data, in more friendly ways for customers for a comprehensive view of your customer service.
The Salesforce Optimizer App is now online
Although Salesforce Optimizer – which gives admins insights into the performance and health of their Salesforce org – is not new, the interactive Salesforce Optimizer app is. Previously, the Salesforce optimizer was a downloadable pdf report, but now admins can access an app to see how well their org is conforming to Salesforce best practices.
Community Cloud design and function enhancements
Community Cloud now has a set of new design and functionality updates to enable companies to provide better online portals. These include a selection of design improvements with new tile menus and build-your-own Lightning Web Component based templates as well as the new ability to personalise the content of components displayed to users and not just what components are shown.
The summer release also brought a couple of SEO improvements for Community Cloud instances which will help your content rank higher for relevant search queries. These improvements include the ability to manually generate sitemaps and dynamic SEO properties that make content applicable to multiple search terms.
As data security is of the utmost importance for companies, Community Cloud has added both two-factor security for external users and a string of opt-out changes to guest user access.
Since the summer release, guest users have fewer permissions by default. Admins can currently opt-out of these additional restrictions, but they will become mandatory in a future release.
But that's not all in the Salesforce Summer Release '20
Of course, the updates do not end there. There are many more updates ranging from UI improvements for Salesforce admins to deep infrastructure improvements. If you'd like more details on specific features that can improve your business, get in touch and we'll give prepare some specific recommendations for you.
Mitesh Mistry
Head of Architecture
VRP Consulting UK
About the Author
Mitesh Mistry is Head of Architecture and Enterprise architecture lead for VRP Consulting. Part of the VRPConsulting UKI team, Mitesh started working with Salesforce back in 2009 climbing the ranks from developer to Certified Technical Architect.