Mulesoft, Jitterbit, and Dell Boomi are three excellent middleware options for Salesforce customers, but selecting the right tool depends on your integration needs and having the appetite and nous to think beyond direct, coded approaches. In today's article, our head of integration, Renat Gubaidullin, shares how we guide our clients to select the right integration strategy and tools.
To truly realise the full potential of Salesforce, businesses should consider an appropriate integration strategy across their core systems landscape to achieve a comprehensive, cohesive and agile customer master data platform. The right level and patterns of integration will enable seamless data, processes and automation to drive better user experience, efficiency and cost savings. Furthermore, harmonious information gathered from various sources and touchpoints provides a multi-dimensional view of customers enabling businesses to perform more targeted marketing campaigns, sales and support services, increasing customer retention and revenue.
Point-to-point vs Middleware
Selecting the most appropriate integration method can be a difficult decision. At VRP we can help you establish your integration goals, determine the scope and make a diagnosis to recommend the right approach for your program.
Typically, direct point-to-point integration is only recommended for basic Salesforce integrations to a single system or end-point. In this case, there is no need to introduce a middleware since the ROI on license costs and overhead to learn a new tool will be too low. Direct integrations require bespoke code to deliver connectivity and control and will incur development, support and maintenance costs.
Where there are more than one or two systems to connect with Salesforce, the direct model increases in complexity, development cost, overheads and can be prone to errors. Much of the integration code isn't reusable so end points, logging and error handling features need to be written specifically for each flow. For this reason, we generally recommend integrating via middleware. There are many middleware options, and the right vendor solution will enable easier scalability, accelerated development using pre-built connectors, wizard-driven mapping and guaranteed delivery mechanisms. Middleware also supports all messaging patterns and protocols, provides out-of-the-box error management and rollback features while supporting SLAs. While it will mean your IT department has to learn a new tool, the ROI for using middleware will be much higher over the long term.
The advantages of ESB
Implementing a middleware solution based on a centralized ESB architecture to integrate Salesforce with other systems (e.g ERP, POS systems, eCommerce, supply chain and many others) is the best way of synchronizing and accelerating your business operations. The advantages of this solution are numerous. Above all, this procedure reduces the number of one point interactions, removes chaos and streamlines the processes by creating one, reliable central system and integration flow. As a result, all applications within the general system can exchange information eliminating the duplication of operations and any changes are applied automatically on one core which can be supervised only by one team. Additionally, since the engine propagates information from one system to other environments, any Salesforce updates automatically apply to all the landscape system databases. Consequently, this solution not only reduces the number of developers and their workload but also provides central monitoring and alerting tools to simplify incident management and effortlessly locate any errors in the data flows of different systems.
VRP can be your integration advisor
To implement a successful integration strategy, it is vital to choose a reliable platform that is not only expertly designed but also tailored to the particular needs of your business. Furthermore, it is crucial to cooperate with a trusted expert that will deliver the integration smoothly. Code synchronization and data aggregation is complex and requires advanced expertise and multiple stages of validation. At VRP we can guide you through the entire journey, help you choose the right platform and provide seamless integration and support.
Depending on scope and budget, we typically recommend 1 or 2 of our preferred integration platforms – Mulesoft, Jitterbit and Dell Boomi – for client vendor selection. They are all recognized as the leaders of the industry in the Gartner's Magic Quadrant for Enterprise Integration Platform as a Service 2020 and with our extensive experience delivering integration with all three tools we can easily advise the best possible option according to the particular situation of our clients.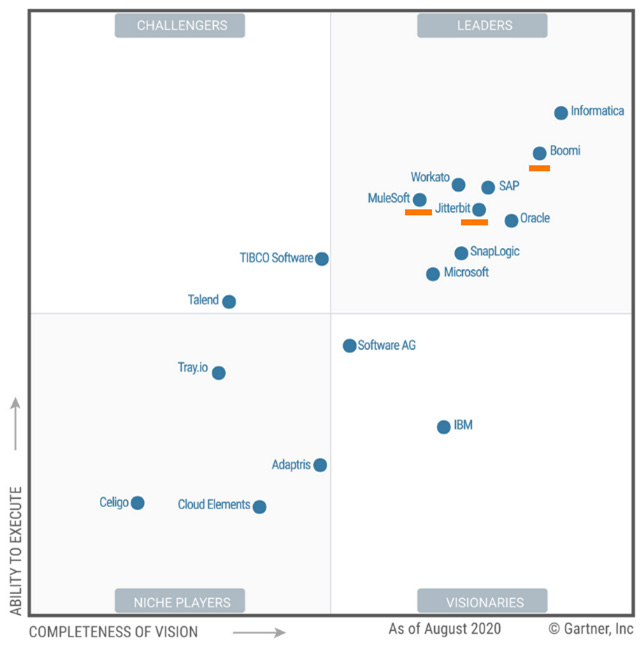 The lowdown on Mulesoft
Mulesoft, being part of the Salesforce family after acquisition in 2018, is an obvious option to consider. Designed with a high scalability in mind and with its vast array of features within one licence, it is the ultimate choice for large enterprises. It provides access to hundreds of connectors for critical business applications and is equipped with powerful mapping and API documentation tools. It is perfect for highly complex systems and large developer teams and provides both cloud iPaaS service and on-premise installation.
It is widely appreciated for its application integration, communication protocol connectors, great mapping abilities and flexible orchestration, as well as error handling and data formats transformation. Moreover, it is highly efficient, intuitive and provides excellent security, monitoring and alerting. Although customers who choose Mulesoft need to wait a little longer for deployment and should be prepared to pay a high price, the amount of available functionalities makes it worthwhile.


The lowdown on Jitterbit
Jitterbit has a fantastic reputation for its technology, customer-led approach and agility and is recommended for mid-size companies and enterprises in need of rapid, nimble integration. Its big advantage is the fact that it offers various licencing packages that can be adjusted both to the budget and the requirements of the companies, which can pick and choose only the needed features. It offers one single platform that supports data integration, API management and process automation and is designed to be Salesforce-oriented. It is also very reliable when it comes to problem detection, as it has embedded Continuous Integration capabilities and integration with external CI/CD tools. It also can operate as a cloud iPaas, VMs and with on-premise installation.
Additionally, it is user friendly due to persona-based tools. Finally, it is known to be excellent when it comes to b2b integration, data standards, data mapping and transformation. Jitterbit may lack the breadth of connectors and documentation of more expensive middlewares but this is a minor point of consideration given the ease of development and great support provided by the Jitterbit team.
The lowdown on Dell Boomi
Dell Boomi has a very secure position and reputation in the market. It has a flexible licensing model, where customers themselves can determine the number of components such as connectors, API points, etc. according to their preferences and budget. That is why it is also suitable for mid-size businesses. Dell Boomi offers additional managed services if needed an d it has both cloud and on-premise options. As with all middlewares we recommend, the platform itself is very versatile and easy to use due to the 'low code' approach and the fact that it offers application workflow development. Additionally, it rates very highly in the category of data integration and it is compatible with multiple systems including life cycle management and EDI.
What makes Dell Boomi unique is that it works perfectly with the Salesforce real-time messaging platform (within limitations) and that it is equipped with original branded solutions (e.g.Boomi Suggest)..In our experience, Dell Boomi projects tend to take longer to deliver and support can be a little slower than with other vendors.
Summary
No matter which way you jump, given our vast experience, VRP can guide you through the entire process of Salesforce integration either direct or via middleware. While the middleware tools have some predefined code, VRP has the capability to add a customized code layer on top of the out-of-the-box solution to enhance complex orchestration logic and mapping transformations. We also have at our disposal a catalog of prepared, reliable, pre-tested code packages to deliver integration flows quickly and efficiently, providing a full stack of necessary features such as clear and detailed message monitoring, guaranteed delivery mechanism with various retry options, as well as an efficient and reliable alerting solution.
Our team of experts can advise you on the best possible integration solution.
For more details on how we can work together visit:
Salesforce Integration
Source: Gartner Magic Quadrant for Enterprise Integration Platform as a Service 2020
Renat Gubaidullin
Head of Integration
VRP Consulting
About the author
Renat Gubaidullin is the Head of Integration at VRP Consulting. He is a highly respected expert in the ESB Integration area with an experience of many years working within a variety of solutions including SAP CPI/HCI, Mulesoft, Jitterbit, Dell Boomi, SAP PI/XI, IBM ESB.