Spring 2018 is really hot for Salesforce: World Tours and Basecamps are all around the world. VRP Consulting Teams have already attended events in Amsterdam, Malta and Helsinki. Now we'd like to share our experience, and we hope it will help you decide which event to attend.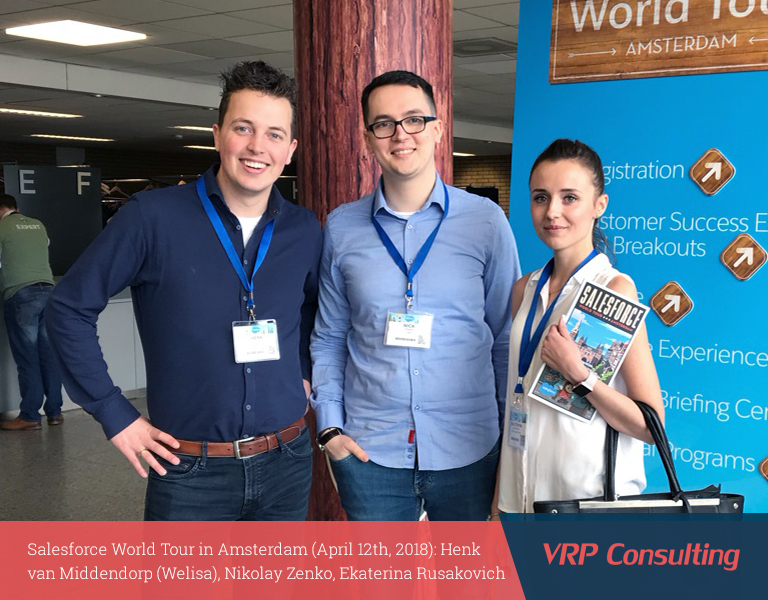 Before 2018 there were two types of global events for all Trailblazers and people interested in Salesforce: Dreamforce and World Tours. Thousands of people attend these events for inspiration, growth of the network and new knowledge. Unfortunately, the main focus was on the largest markets, so people from all over the world had to go to London, Amsterdam, Paris or Hannover. Finally, this year Salesforce Basecamps let the local communities spend time together without long trips!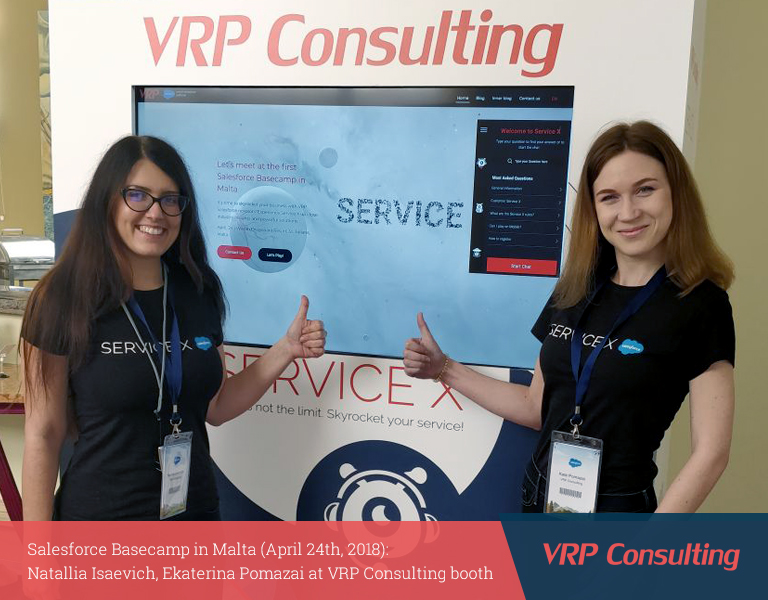 Let's compare the events from the partner and Salesforce customer point of view.
Practical Cases
We and our customers from Finland really enjoyed the opportunity to listen to practical cases from local companies at Helsinki Basecamp on May 8th:
·        Petri Lakka, Vice President, Services Development from Valmet, described in detail Valmet's system built with Salesforce.
·        Mia Ruotsala, Chief Digital Officer from Intersport, shared how they are carrying out the digital transformation for their company using eCommerce.
·        Joonas Jokiniemi, Manager, Data Protection from UPM, organized a fantastic discussion on GDPR topic, the hottest question for all European companies.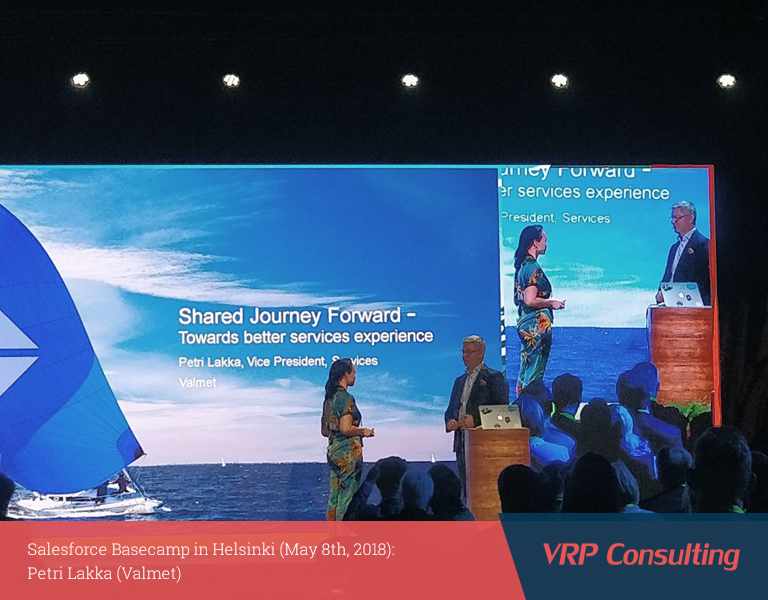 Maltese Basecampers had an opportunity to listen to the success stories of Catena Media, Tipico, JohnSlots. VRP Consulting as a Gold Partner of this Basecamp had its own booth presenting our own solution – ServiceX. There we met a lot of people who are just in the process of making decisions. Thanks to the event, they got plenty of examples of how local companies, and even competitors, successfully implement Salesforce. No doubt that global experience is interesting, but we believe that local experience is so important. Don't you think so?
Our special greetings to Michael O'Grady (Sales Director Greece, Malta & Cyprus at Salesforce) for organizing such a great event for the Mediterranean market! Thomas Allendoerfer (Product Manager Salesforce, Tipico Co. Ltd), Adrian Vella (Head Of Data & BI at Tipico Co. Ltd) — it was so great to see you at the scene. See you at Dreamforce!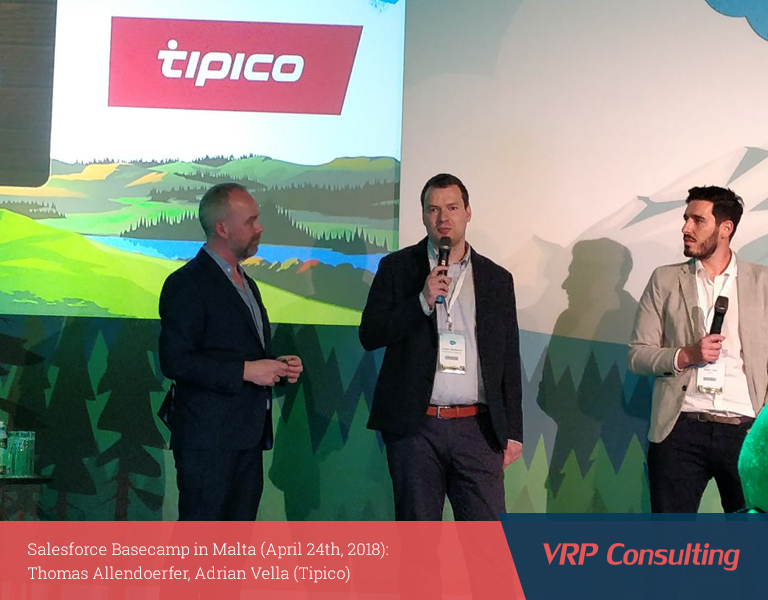 Salesforce New Features Announcements
If you are a Salesforce Product Owner, Developer or Administrator — for sure, the World Tours or Dreamforce would suit you much better. There you can attend a lot of technical presentations, Trailhead Sections and meet hundreds of technicians ready to share their knowledge, participate in hackathons, win prices and feel the atmosphere of a real developers' community. Moreover, you'll for sure catch the announcement of Salesforce new features or new products at Dreamforce.
If you're on the business side, you can get you can get everything at once at Dreamforce and World Tours (practical cases of leading companies, atmosphere, network, new demo possibilities), except for the one, but important thing — real experience and focus on your market!
Network
Local events let you focus more and meet relevant people, unlike Dreamforce, where you have to put in a lot of effort to find someone you need. World Tours with Networking Events and Basecamps with CloudExpo serve really well for growing your network, finding new partners, colleagues, clients or — who knows? — future employees or employer!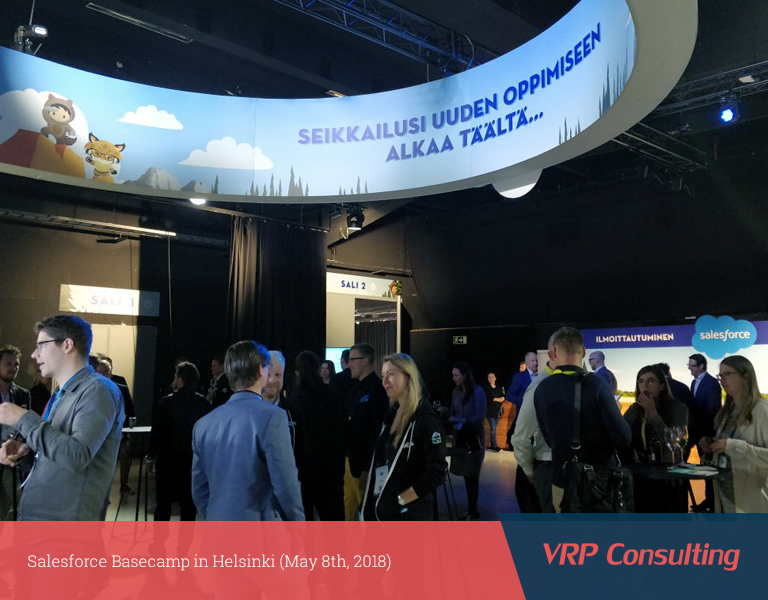 Atmosphere
We have to admit, that organizers of the Salesforce events perfectly cope with their work! They understand the specifics of each market which allows visitors to feel comfortable. We really enjoy live communication at the events! Customers talk about their experience and challenges, so we can understand them much better. It becomes even more interesting when Salesforce invites its representatives from different products and markets. What's more impressive are speakers from other industries or institutions, or even presentations from celebrities or politicians, that help you think differently and give you the fuel you need to keep going.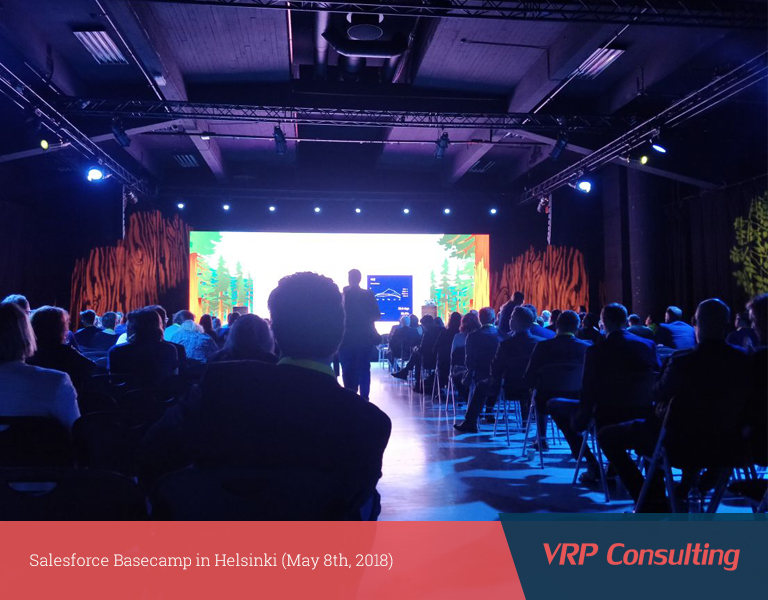 What's Next?
If you are from the business side, local events and World Tours are the best choices for you. Just imagine how much time you could save getting all the best cases, knowledge and real experience, as well as growing your network and getting inspired just in one day. Technical guys are more than welcome at World Tours and Dreamforce — real-time discussions out of Help and Training or forums are much more productive and bring a lot of fun.

If you are still in doubt whether to attend World Tour or Basecamp — just register for free to different events and compare for yourself.
VRP Consulting keeps going with the events: We are packing our luggage to visit World Tours in London (May, 17th) and Hannover (June 12th-15th), Basecamps in Tel-Aviv (June 13th) and Zurich (July 5th). And we are absolutely looking forward to the Dreamforce!
So let's meet if you are around. No sales speeches — only real cases, solutions, and products from our 10+ years' experience. From Lightning Adoption, Service X, Customer's Satisfaction and Revenue growth, Integrations and Eco-system building, to Marketing tools and Digitalization — we know how to impress you!
We are really keen to know your thoughts about the latest events. Feel free to comment!