One more year of a truly rewarding partnership with Salesforce and one more day full of innovative ideas, inspiration and learning. VRP Consulting is extremely excited about its participation in the upcoming Salesforce World Tour event that arrives in London on Thursday, May 23rd.
The annual event brings together upwards of 10,000 Salesforce executives, customers, partners, thought-leaders, industry pioneers and experts all under one roof enabling them to share and gain valuable insight into industry best practices, showcase brand-new solutions and build strong relationships with business leaders from global companies across a range of verticals. Hands-on workshops, inspiring keynotes, breakout sessions, live product demos, tangible practical advice – all this makes Salesforce World Tour London a must-attend event.
VRP Consulting is going to be there and invites everyone to join its team of experts for a transformative deep dive.
VRP Consulting has grown its presence in EMEA to over 400 resources this year, opening offices in London, Rotterdam and Krakow. As a Salesforce Silver Consulting Partner and Product Development Outsourcing (PDO) Partner for ISVs, VRP Consulting is one of the few pureplay Salesforce partners to have the scale and expertise to work across the platform for all sizes of clients in all sectors. VRP Consulting is excited to share its considerable expertise gained from over 10 years of delivering best-in-class solutions to more than 500 Salesforce customers and provide in-depth insights into how we can help businesses uncover the full potential of the world's #1 CRM platform and maximize their investment in Salesforce.
"Salesforce World Tour London is the biggest event outside of Dreamforce, so we are thrilled to participate in this global event again. Having been at the forefront of delivering industry-specific solutions on the Salesforce platform for over 10 years, we look forward to sharing our wealth of Salesforce knowledge and experience with our customers and partners," said Will Lamb, Managing Director UKI, VRP Consulting. "We thrive on helping our clients leverage the technology to transform their businesses, and the event offers a great opportunity to understand future innovation and direction of the platform."
If you are going to be around on May 23rd, join us for a meetup. You should have no difficulty in finding us there – just look for branded polo shirts.
Looking forward to seeing you at the event!
Event details:
No entry fees. Click here to register for the event.
Date: Thursday, May 23rd 2019
Timing: 8:00 a.m. – 6:00 p.m.
Venue: ExCeL London, Royal Victoria Dock, 1 Western Gateway, London E16 1XL
Agenda:
08:00 – 18:00
Registration & Customer Expo
08:30 – 09:45
Morning Breakouts & Industry Breakfasts
10:00 – 11:30
"We Are All Trailblazers" with guest speakers
11:30 – 13:00
Refreshments & Customer Expo
13:00 – 16:00
Breakouts, Theatres & Workshops
16:00 – 17:00
Closing Keynote
17:00 – 18:00
Networking Reception in the Customer Expo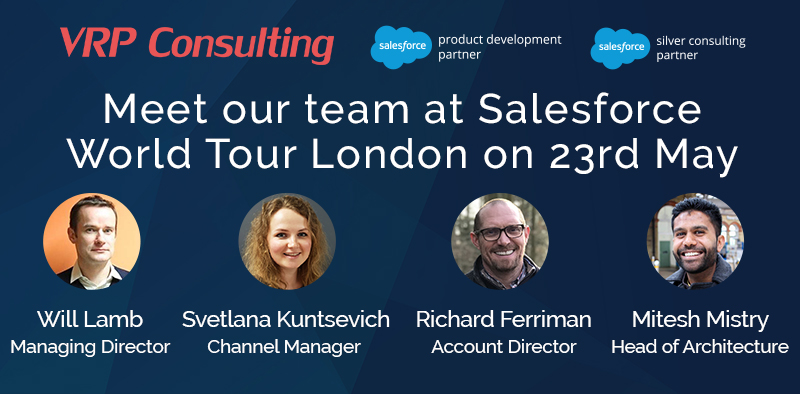 If you are going to be around on May 23rd and feel like joining us for a transformative deep dive, please fill out the form to request a meeting with our expert.