The R2 Data Labs division of Rolls-Royce had a vision to drive collaboration within the aviation industry by creating an open, secure data exchange, marketplace and incubation platform, utilising Salesforce technology. Bringing this enterprise grade platform to market would require engaging with Salesforce technical experts, who possess the depth of experience in architecture and design, the ability to deliver rapidly, and also the vision to bring creativity and innovative ideas to the table.
Yocova was publicly launched by Rolls-Royce in February this year. Dmitry Zhugin, the CTO of VRP Consulting and the Enterprise Architect on the program, shares his recollections on the last 18 months of working closely with Rolls-Royce and their partners.
Recommended by Salesforce
VRP Consulting was invited to the project in September 2018 on the recommendation of Salesforce. At that time, VRP was both a Product Development Outsourcer and Silver Consulting Partner (since December 2019 a Gold Consulting partner). With a team of 400+ Salesforce specialists and experts, experienced in an extensive range of projects across numerous industries, the blend of both product and Salesforce implementation experience coupled with hybrid local and near-shore delivery was attractive to Rolls-Royce.
All systems are Go..
Starting with rapid prototyping and roadmapping, the cross-party project team accelerated through design validation to a successful alpha launch to selected members in only 3 months. We then expanded the team to deliver the beta platform, increasing velocity to design and deliver more features and provide enterprise connectivity to apps, APIs and data rooms through the marketplace and within the platform. An agile approach and iterative release of production features to support accompanying data pioneer and ISV incubator programs delivered a new way of working for the beta platform members from various airlines, OEMs, ISVs and IDVs within aviation.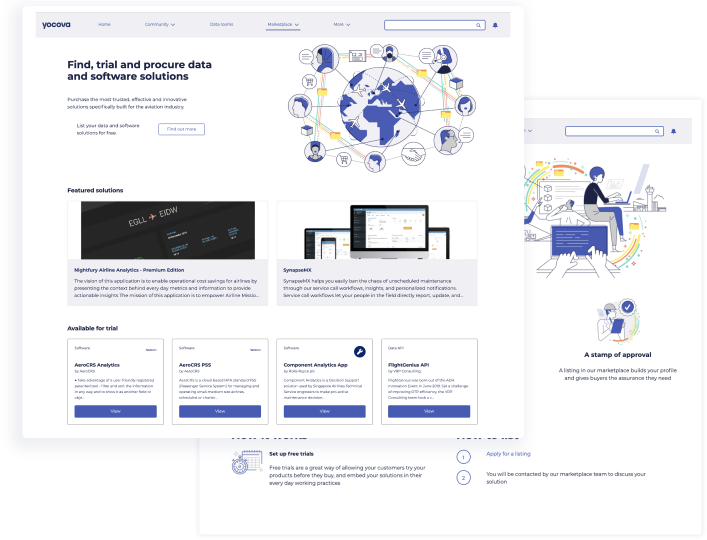 What is Yocova?
Yocova is a neutral platform where the aviation community comes together to exchange information and ideas, to improve outcomes for the whole industry and solve long standing industry challenges.
Consisting of a community of aviation leaders, data scientists, software experts and developers that use the platform to discuss ideas and insight to develop innovative solutions. This platform facilitates problem solving and the co-creation of solutions, allowing data owners to remain in control of how their data is used throughout. Aviation specific solutions and data sets can be purchased or accelerated via new ventures through the Solutions Partnership Programme.
"We are already seeing great value in working with our industry peers to unlock our combined data sources and create unique digital service solutions that could truly enhance the future of aviation"
Caroline Gorski, Group Director, R2 Data Labs
Collaboration drives success
To illustrate the power of data collaboration within Yocova, VRP participated with aviation ISVs in a competition to take a data source, solve an industry problem and produce a new API that would be available through the Yocova marketplace for other member to take advantage.
During one of our program workshops, the team recalled a business trip to London, when, due to a flight delay, we missed train connections and arrived very late. This led to the idea of creating an application to find recent average statistics on flight delays on the airlines and airports, on all recommended routes between cities. Providing passengers with more data points at the time of booking could drive route optimization from the front.
"In just two weeks we used the platform to deliver a working API and listing in the marketplace. It was a brilliant experience to see how our work on platform could be used in real life by ISVs. Overall, we are delighted to be part of the Yocova program team of incredibly dedicated and talented individuals."
Dmitry Zhugin,
CTO VRP Consulting
The future is looking bright
There's more to come as we continue to work through the Yocova roadmap to add more features to help members solve more aviation problems, especially through the issues of fleets being grounded during the pandemic and into the safe resumption of normal business activities.
The VRP Consulting team are very excited about the future as we continue to innovate with R2 Data Labs on this exciting and innovative program.
Learn how VRP Consulting accelerated design to alpha prototype in 3 months, beta launched within 6 months to 100+ airlines, OEMs and ISVs and supported the market launch of Yocova in Feb 2020 in the full Yocova case study.